RGVTC's Profile Infrastructure
Institute profile
The Institute is doing pioneering work in the field of Management and Education since and is imparting professional skills to young aspirants who have dedicated themselves to be a productive executive or a teacher. It is managed by professionals under "Prem Mahendra Shiksha Avam Samaj Kalyan Parishad', a registered society working in the field of Education since last 17 years. The Institute is recognized by the Director, Technical Education, Government of Madhya Pradesh AICTE, NCTE, Ministry of Human Resources Development, Govt. of India New Delhi and is affiliated to Jiwaji University, NAAC star 4 University at Gwalior.
Location
The Institution is located at Gwalior on Delhi-Bombay railway line. Rail, Road and Air connects it. You take 3 hours 35 minutes to reach Gwalior by train from Delhi. The college is 4 Kms. away from the railway station.
The Campus
The Campus, situated at the foothills of Gwalior Fort is lush green jungle providing serene atmosphere for learning and assimilation. The campus provides all basic amenities and facilities and is approachable by road transport. All Laboratories, Lecture Halls and Sports Complex are located within the campus.
Library
Institute has a well –equipped, fully computerized library, which provides latest and up-to-date reference and course books. It is subscribing a large number of journals, newspapers and magazines. A study room has been attached to the library for in depth study.
The good collection of Videotapes, CD-ROMs and Audio Cassettes on different subjects makes the library unique. Library has been connected to Internet to have an access to information from the world over.
Computer Center
The Computer Lab is equipped with Pentium based terminals and students have access to Internet, E-mail facilities and latest software.
Campus Facilities
Network for Physical Development – Meditation groves, hobby center, lawns and jogging tracks, sports and play field provide an environment for physical and mental development, essential for learning and assimilation.
Health Care - A watch is kept on the health of the students. They are provided nourishing, balanced diet and Medicare in case of need through medical experts. Transportation – Institute has its own fleet of transport.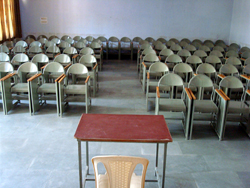 Seminars, Workshops and visits
Presentations, interactions with elites of different hues and disciplines and socialization have their own impact on shaping and grooming of future leaders. Institute is laying importance on this aspect and ensuring that each student is given an opportunity to prepare projects, present papers, write visit reports etc. Interaction with eminent personalities is also organized to broaden the vision of students. Indirect effect of such interaction is improvement in marketability of own product and hence better placement.
Professional Club
Management club has been formed to undertake various academic, professional, social and cultural activities with a view to foster team spirit and inculcate leadership qualities.
Rural Area Development
There is a need to develop villages with a view to make villagers prosperous and build nation to a desired level. The students visit adopted villages, prepare schemes and provide support to villagers in implementing schemes.
Games and Sports
Institute has a mini stadium and play fields. Students are encouraged to participate in Games and sports.
Co-curricular Activities :
Co-curricular activities play an important role in enhancement of personality. Institute is laying emphasis on conduct of competitions and competence building co-curricular activities. Students are encouraged to participate in District, State and National level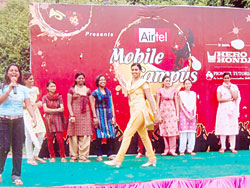 competitions.
are encouraged to participate in District, State and National level competitions.
Personality Enhancement
A programme is conducted to assist students in confidence building and improving leadership skills, competitive skills and communication skills.
Summer Training
Institute's interface with different organization assists in organizing practical training for students undergoing studies in the campus. They gain practical knowledge and are exposed to the latest trends in Industrial Management and HRM.
Placement Activities
Institute's organization linkage and development cell is assisting students in providing suitable placement in accordance with their competence & capability. Campus interviews are organised and consultancy / project work is undertaken to provide work experience to students and gain confidence of industries.
Furniture-List
Intrastructure
Library-Book-1
Library-Book-2
List-of-Journals